PROM-cycle
The selection and application of a PROM incudes four phases and eight steps. The PROM-cycle presents a stepwise approach, although some steps may be omitted or conducted in a different order, depending on the specific circumstances in which the cycle is used. 
The phases include:
goal setting for PRO measurement,
selection of PROs and PROMs,
developing and testing of quality indicator(s),
using and evaluating the PROM(s) and indicator(s).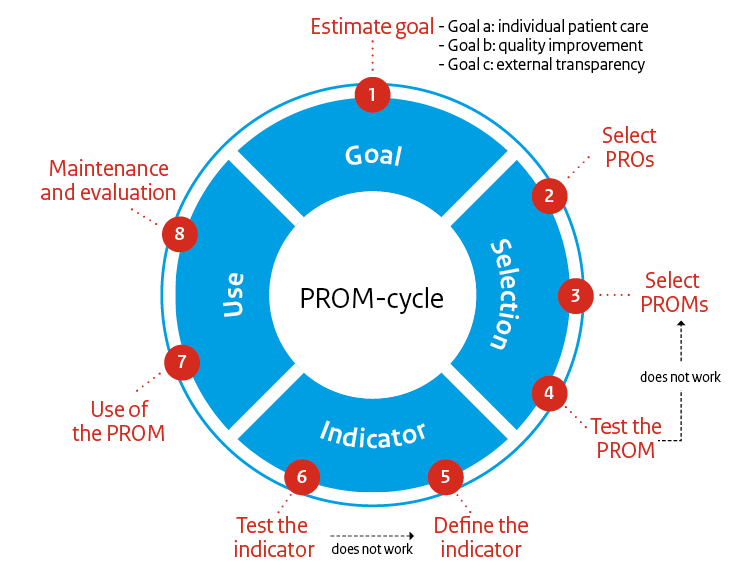 Focus of the cycle
The cycle is aimed at measuring health outcomes as reported by patients, but may also be used in measuring the experience of patients with healthcare. Such experiences can be measured with a patient reported experience measure (PREM).
In clinical practice, clinicians can use PROMs to focus on a patient's individual health goals and guide diagnostic and treatment decisions. Aggregated across patients, PRO results can be used to guide efforts for clinical quality improvement (internal);  and for public reporting to inform patient choice and value-based payments (external).
The cycle provides knowledge to support the development of quality registries in which PROMs are used for measuring outcomes. To limit administrative burden it would be preferable to combine the use of PROMs in clinical care and for quality improvement. In other words: using one PROM for multiple purposes. However, the combination of goals is not easy because different goals may imply different requirements for PROs to be measured, and for reliability, validity and applicability of PROMs. This cycle supports in making choices in using PROMs for different purposes.  
This cycle has not been developed for conducting scientific research in which PROMs are used to evaluate effectiveness of care. Such research is typically conducted in a controlled setting, while this cycle focuses on 'real world' settings. However, the cycle may assist researchers in designing and conducting their projects.
Background: what is a PROM?
Patient reported outcomes (PROs) assess aspects of a patient's health status coming directly from the patient. PROs can measure symptoms such as pain and fatigue, physical or mental function, or patient functioning in work, homemaking or sport. Health related quality of life can be measured as overarching concept of general well-being. A PROM is usually a questionnaire or single item scale measuring PROs, which is reported by the patient.  A PROM can be generic, measuring health-related quality of life, or specific, assessing components of patients' functioning related to a specific disease or condition.
Multiple stakeholders may be involved in selecting and applying PROMs, such as patient representatives, clinicians and health insurers. Several steps are required in the process and decision making, which can be lengthy and complex. This cycle assists in taking these steps.    
More information about PROs and PROMs can be found at IQPROM.nl
Objectives of the cycle
To inform all stakeholders (including patient representatives, clinicians, health insurers, and researchers) about the steps in selecting and using PROs and PROMs.

To create awareness among stakeholders about choices and dilemma's in using PROs and PROMs.

To support stakeholders by providing an overview of exiting tools and manuals.
Contact
The PROM-cycle has been developed under auspices of the National Health Care Institute and the Dutch Federation of University Medical Centers (NFU). Please contact us for questions, comments or feedback via e-mail: promtoolbox@zinl.nl.
Authors
Eva Verkerk (IQ healthcare,Radboudumc Nijmegen)
Marjolein Verbiest (IQ healthcare, Radboudumc Nijmegen)
Simone van Dulmen (IQ healthcare, Radboudumc Nijmegen)
Philip van der Wees (IQ healthcare, Radboudumc Nijmegen)
Caroline Terwee (EMGO, VUmc Amsterdam)
Sandra Beurskens (Maastricht University & Zuyd Hogeschool)
Dolf de Boer (NIVEL)
Carla Bakker (NFU)
Ildikó Vajda (VSOP)
Marloes Zuidgeest (Zorginstituut Nederland)